Hello. I am starting to make a series of cartoon characters based on the elements of the periodic table. I am doing these in atomic order, and I am basing their shapes on the shapes of their atom's atomic orbitals. I also make black-and-white sketches of these characters on paper.
Anyway, here's Hydrogen. I made him using MS Paint and Paint.net, the latter mainly for editting and getting the cool, calm gradient effect. (You can get Paint.net
here
for free. It works on platforms Microsoft XP and up.)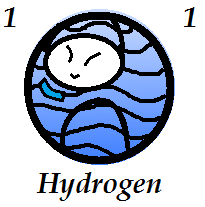 Rate, comment, and enjoy! I will be making more of these soon.